Information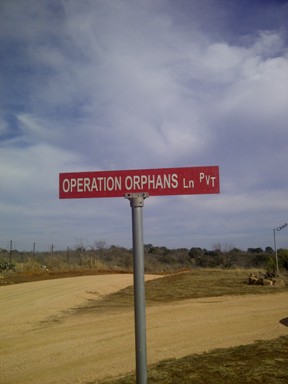 Information for anyone coming to Operation Orphans
Our camp is located about 10 mi. south of Mason, just of US 87. Take Lower Willow Creek Rd. east off US 87. Operation Orphans sign is at the corner. Go about 1/2 mi. and take a right on Operation Orphans Ln. Camp Gene Ashby sign is at the corner. Come down the hill and you have arrived.
From Fredricksburg, take US 87 north, near 30 mi. out, you will cross the Llano River and take the next right.
From Llano, take Hwy. 29 west. About 15 mi. out, watch for a 300 ft. cell tower on the left. Near that tower, turn left on RR 2768 toward Castell. Cross the Llano River on a low water crossing and immediately after coming up out of the river botton, take a hard right on RR 152. RR 152 dead ends at US 87. Take a right and follow directions listed above. CAUTION!! RR 152 is open range ( no fences) so watch for cattle on the highway. They have the right of way.
From Mason, take US 87 south. About 9 mi. out, the highway becomes divided. Get on the inside lane and take the second left on Lower Willow Creek Rd.
Arrive Fri. afternoon or evening. All meals are furnished from Fri. night thru Sun. morning. Our dorms. have bunk beds with mattresses. You will need some kind of bedroll, clothes and personal items. Showers are available. The fishing or hunting is Sat. only. You may go home Sat. night or stay over until Sun. morning.
We ask our guides to use light caliber rifles. If you don't have one, you can check out a scoped, bolt action 222 or 243.
Information for Homes
If your home is interested in bringing kids to one of our hunting or fishing camps, please fill out the online "Hunt Form" below:
•Homes Information Packet(PDFformat)
•Liability Release (PDF Format)
Information for Ranches
If you are interested in hosting an Operation Orphans hunt, please fill out the online "Ranch Contact Form" below:

•Ranch Information Packet(PDF Format)
For inquires, please contact us at operationorphans@yahoo.com
Information for Guides
If you are interested in helping guide for an Operation Orphans hunt, you must have a background check. Click the link below to fill out the authorization form.